Sanna Saarto, planning officer, Finnish Red Cross.
The past two and a half years of pandemic have tested our society and its capabilities and functionality in many ways. One of the important questions it has raised is how we reach different population groups when facing a crisis.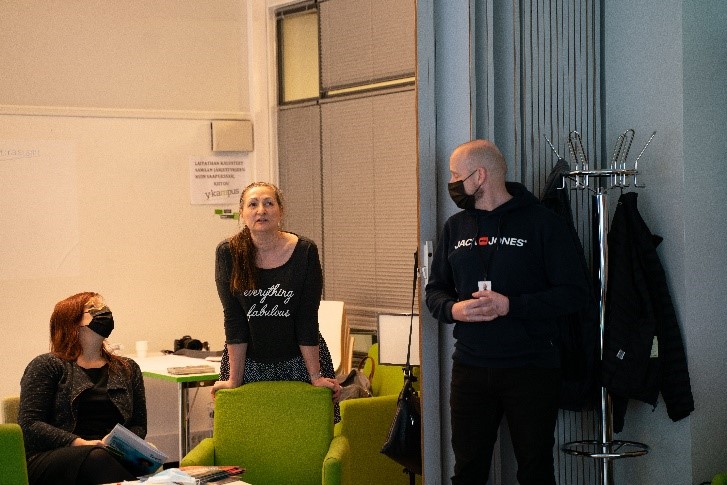 The population is changing in Finland, and culturally and linguistically we are an increasingly diverse group of people. Almost half a million foreign language speakers live in Finland, and the old straightforward communication practices are no longer sufficient. Of course, immigrants are not a homogeneous group either. However, during a crisis, foreign language speakers are often in a more vulnerable position than others. 
 
The Covid-19 pandemic has clearly shown that not all the population in Finland is easily reached during crisis. Part of the immigrant population has not been able to access information related to Covid-19. The Multilingual and Multichannel Coronavirus Communications Coordination Project (MMCC) implemented by the Finnish Red Cross together with immigrant organisations was born out of this need. The goal is to develop and support the organisations' coronavirus communications, reach multilingual target groups and use communications to impact people's health behavior. The project also investigates the status of multilingual preparedness and crisis communications and preparation for possible future emergency situations. 
So what has been learned about multilingual and multichannel communications? 
Interaction. Merely producing information is not enough, because without discussion, the message is often missed. There must be space and time to discuss and process issues. This is perhaps something not so commonly done in Finland. 
 
Easy language. It is impossible to quickly produce information and material in all the languages in every situation. It is important to produce up-to-date information in easy language, already reduced. It should not be not assumed that everyone understands all the vocabularies and terms. 
 
Illustration. In multilingual communication, it is also important to be able to visually observe what the contents are about. A clear illustration supports the message and makes it easier to understand. 
 
Photo galleries. It is important to take into account who appears in the pictures and videos and who can relate to them, in order to address different groups. 
 
Proofreading. It is absolutely necessary to use a reliable proofreader when translating texts. Trusted interpreters and readers help ensure that the message does not change, even if the language changes. 
 
Distribution channels. In addition to materials, distribution channels are also very important. It is good to know which social media platforms or communication channels best reach the different language groups and within these, for example, different generations. 
 
Ways of communication. Levels of trust in official information may vary greatly. It is important to consider what are trusted sources and how information needs to be transmitted – sometimes, for example, spoken word is more trusted than the written word. 
 
Education. A lot of education about equality, anti-racism and accessibility is needed to increase awareness and understanding. 
 
Communalism vs. individualism. Many people hope for more feeling of community and a more informal atmosphere for different occasions and events. At the same time others hope for personal service and individual advice. Customs and expectations may vary between cultures as well as between individuals. 
Networking. In order to reach people in the event of a crisis, we must network in advance. Building and maintaining networks and partnerships are crucial when preparing for crises. 
 
An open attitude. In an interaction, attitude is more important than the question itself. When you start asking questions and talking with an open attitude and a friendly tone, learning happens both ways. It is better to ask than to assume. 
 
Participation. The possibility of genuine participation must be ensured. 
 
Trust and safe contacts. It takes time to build trust between different actors. Trust in the authorities can also vary greatly depending on previous experiences. It is important to get to know each other's ways of working and to develop the rules of the game for common action. 
 
Cooperation. Understanding grows when we cooperate with people. The more diverse group we have planning for preparedness, the better equipped we are to consider different situations and needs. 
 
How can these important observations be included in preparation for future crises and contingency plans? At the Finnish Red Cross, the process and internal learning are still ongoing. Our practices must change together with the changing society. We must be prepared so that we can quickly and efficiently scale operations in a multilingual environment. 
 
As interaction increases, we understand each other better and learn what and how to communicate with each other. This applies both to one's own neighbourhood and to society more broadly. The better we know each other, the better prepared we are in the face of crises.
Marian Ismail, coordinator, and Ee Eisen, communications expert, of the Multilingual and Multichannel Coronavirus Communications Coordination Project of the Finnish Red Cross have been interviewed for the article.